Home

/

Domestos Aroma Lux Pink Jasmine and Elderflower Toilet Block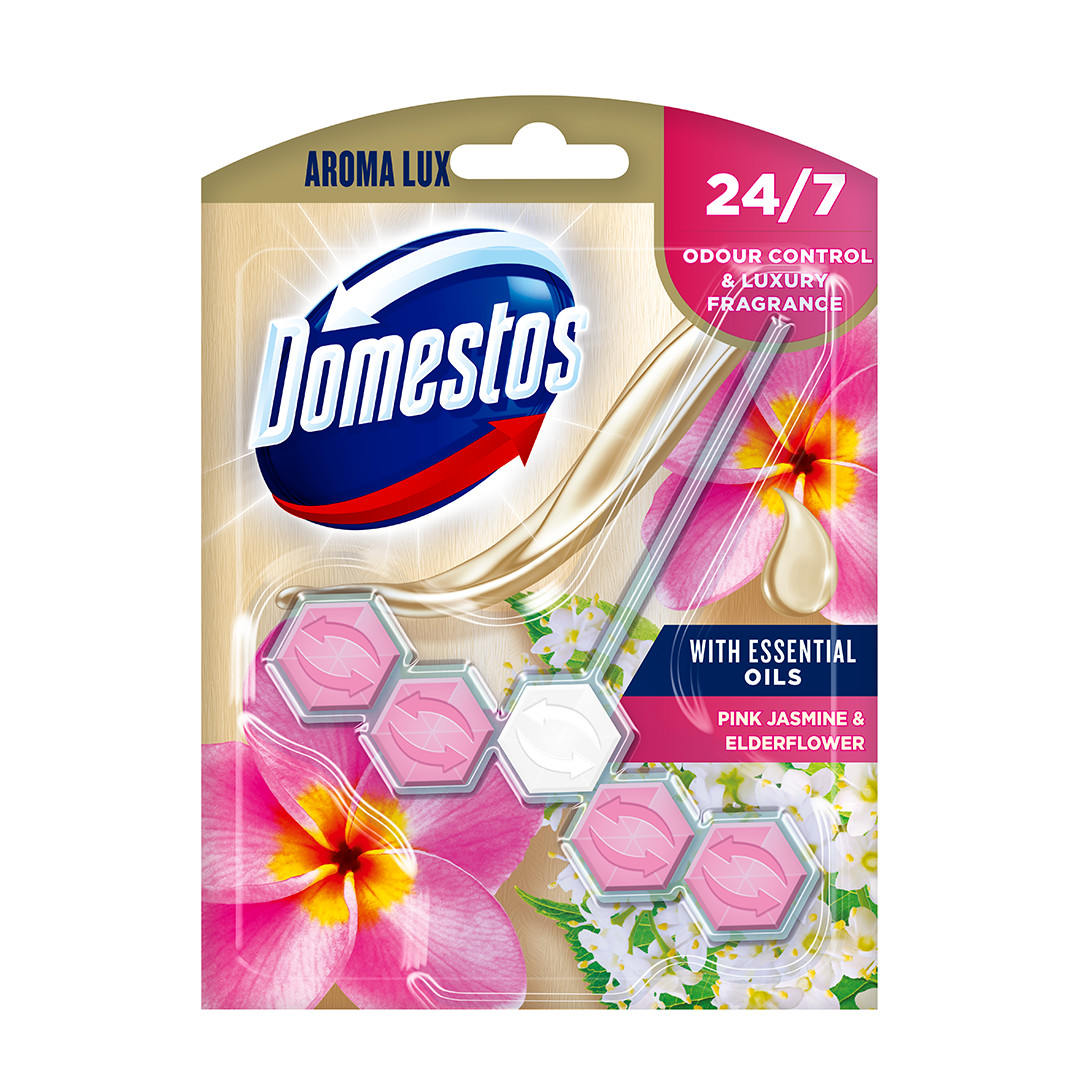 Domestos Aroma Lux Pink Jasmine and Elderflower Toilet Block
Domestos Aroma Lux Toilet Block is a luxury-scented toilet freshener from the UK's #1 toilet cleaner brand*. Made with essential oils, Domestos Aroma Lux toilet rim blocks help reduce odours and constantly emit a fragrant scent in your toilet. Flush after flush, our toilet rim block releases a rich foam that helps to prevent limescale, remove dirt, and leave toilet bowls hygienically shiny with a long-lasting fragrance in your bathroom. This Domestos Aroma Lux Toilet Block is made with 100% recycled blister and cardboard packaging. Domestos continues to protect millions of families with its extensive range of cleaning products, including multi-purpose wipes, thick bleach, and bleach sprays. Domestos bleach products can be used as multi-purpose cleaners all around your home, including as bathroom cleaners.
Benefits
Domestos Aroma Lux Toilet Block with 24/7 odour control with essential oils
This toilet freshener contains essential oils that release a powerful scent, making sure your toilet smells fresh at all times
Domestos toilet rim blocks help to hygienically clean, freshen & shine your toilet
The packaging for this rim block is made with 100% recycled blister and cardboard
*Nielsen, Total Market MAT, Toilet Cleaning, January 2021
Unfold the hanger, break the plastic lock, and hang over the toilet rim, ensuring it is in the flow of water. After the product has been removed from its pack, please dispose of any excess material remaining in the pack. Wash hands thoroughly after handling.